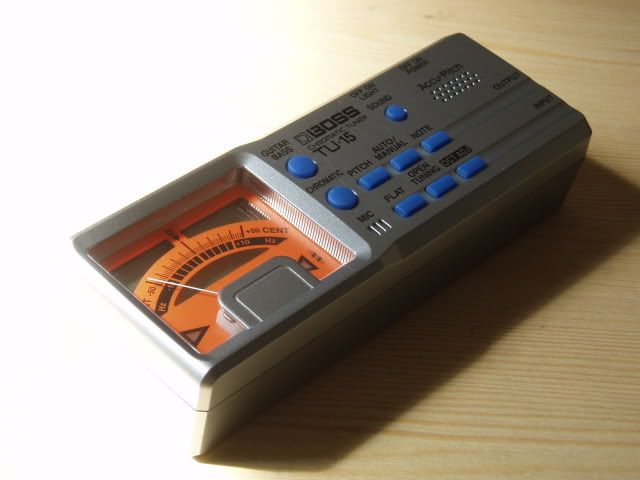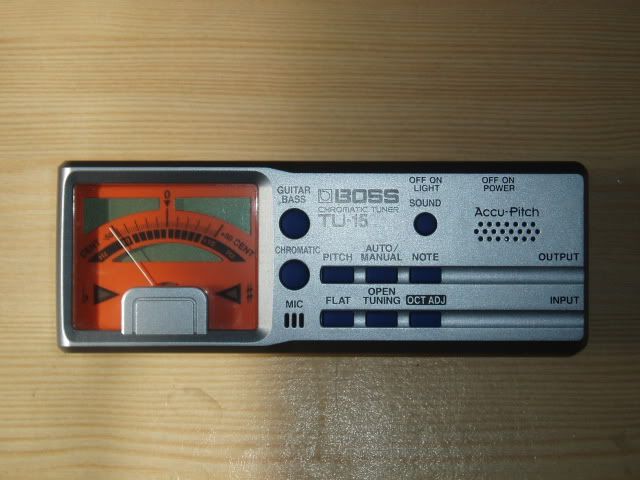 Pricing
I paid £52 for this from ebay, condition was as new.
For people looking for a brand new one in the UK:
£62
For people in the USA:
$89.99
Pros
+ Fast and accurate.
+ Stable needle.
+ Backlight (useful for dark stages).
+ Beeps when you're in tune.
+ Able to tune bass guitar, and also able to tune guitars which are in a non-standard tuning (drop d, open tunings, you name it).
+ Has built in mic for tuning acoustic guitars.
+ Doesn't affect your signal (true bypass).
+ Top of the display is angled which makes it easier to read when it's on your desk, on stage, wherever.
+ Has rubber feet to stop it slipping around, unlike some other tuners.
+ Has an "octave adjust" feature; useful for setting the intonation on your instrument.
+ Has an output.
Cons
- Made out of plastic, so be careful with it!
- Although I haven't had the opportunity to try this out myself, I have heard that it isn't that brilliant for tuning acoustics.
- Is shipped without a protective case, which I can't understand as nearly all of Boss's other tuners are shipped with a case of some sort.
- A bit pricey.
Review
Not long after I bought a Boss BCB-60 Pedal board, I decided to look into a tuner to sit in the pedal board. After reading many reviews for various tuners, I settled on the Boss TU-15. One came up on ebay and so I snapped it up, and I don't regret it at all. The main things I was looking for in a tuner were speed, accuracy, and a backlight! This thing delivers all those and more! The ability to tune bass guitars and guitars in non-standard tunings is a useful thing to have also, although that feature does not get used too often by myself. The backlight is a great feature, and makes tuning in dark places so much easier. You may want to be careful as to not damage the tuner or display/needle as it's made out of plastic; however I think it's quite safe in my pedal board. My only complaint is the lack of a protective case from Boss (c'mon guys, it wouldn't cost that much more just to give it
some
sort of case). The price may also be a problem for some, although it is worth it!
Conclusion
Although the ability to tune acoustics is apparantly not that great, if you don't play acoustic and you're looking for a brilliant tuner, then this is it!